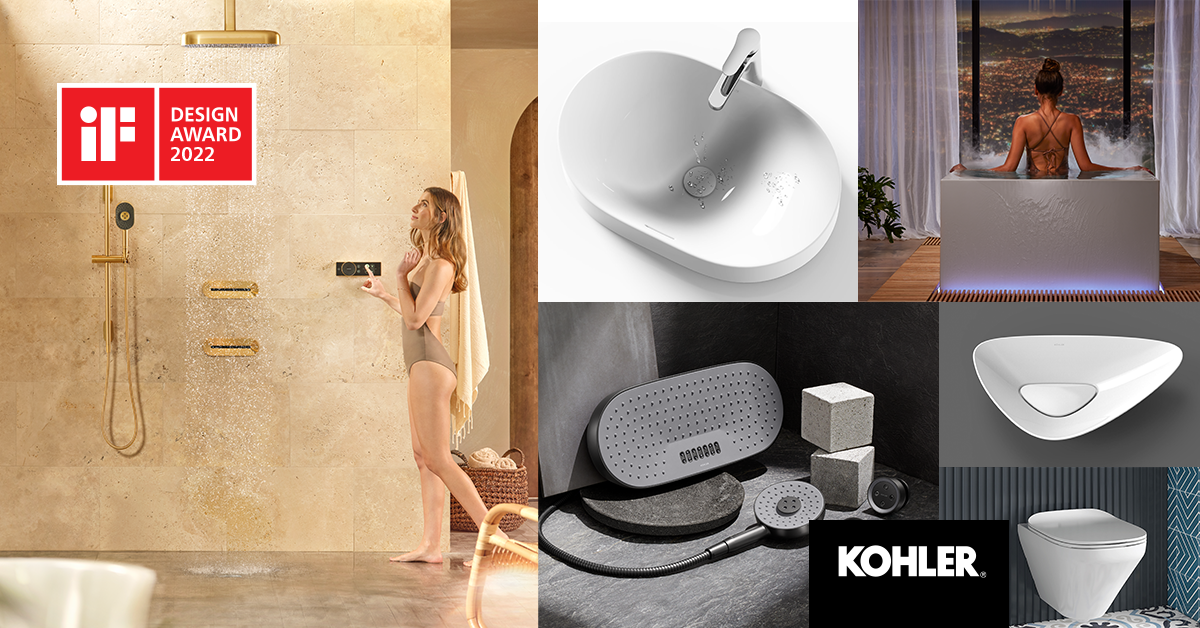 KOHLER, Wis. – April 25, 2022 –Five products from Kohler Co. have been selected as winners in the 2022 iF DESIGN AWARD, the world-renowned design prize. Each year, the world's oldest independent design organization, Hannover-based iF International Forum Design GmbH, organizes the iF DESIGN AWARD.
Kohler's five products won over the 132-member jury, made up of independent experts from all over the world, leading in categories from User Experience UX to Bathroom Product. The competition was intense: almost 11,000 entries were submitted from 57 countries in hopes of receiving this distinguished honor.
Kohler Anthem & Statement Showering Collection & Experience: Kohler's new showering collection helps individuals create showers that meet unique visions of perfect. Diversity of size, shape, and finish can be mixed and matched freely. Simplified controls (mechanical or digital) accommodate the most elaborate designs by consolidating controls into a single hub reducing clutter and complexity. With the push of a button, users can directly actuate specific sprays or initiate sophisticated presets. Fittings are designed for whole-body experiences with thoughtful and innovative sprays optimized for specific tasks such as rinsing hair, soothing sensitive skin, or kneading sore muscles. Category: User Experience (UX); Product UX
Stillness Bath, Immersive bathing experience: In Stillness, water, light, fog, and aromas converge to create an immersive journey of the senses designed to relax the mind, soothe the body, and renew the spirit: Water cascades over the edges, burbling tranquilly through a Hinoki wood grate, atmospheric lighting creates a calming mood, aromatics-infused fog envelops the water surface to sooth and relax, Kohler Konnect app controls every element for complete customization of the experience, preset experience journeys are created for effortless start. Smart, spa-like, and with a design worlds away from ordinary, Stillness turns bathing into a sanctuary for self-care and well-being. Category: Product, Bathroom
NYSA Vessel, Wash Basin in Vitreous Ceramic: NYSA vessel is a statement of expression for a modern Indian Bathroom, designed as the centerpiece to meet the need to personalise the space. Inspired by the shape of a petal, the form breaks away from monotony of conventional forms. The drain cover compliments the tri angular shape and covers the drain for an elegant flow of water. NYSA is a bold statement of expression and gracious in its use. Category: Product, Bathroom
Modern Life Edge Ensemble, Ceramic Wall Hung Toilet and Wash Basin: Modern Life Edge is the world's slimmest bathroom suite. The collection features a modern design with minimal, simple and clean lines. Rimless in a true sense, the toilet and vessel have the thinnest wall seen in Vitreous bathroom products. Thin wall of the toilet provides the largest bowl opening and a unique aesthetic perfect for hygiene and comfort. The seat is narrow for least front contact. On the other hand, the vessel provides a splash free experience. Modern Life Edge for a lifestyle is simple yet stylish in design for a home in a small urban bathroom as well as generous spaces that demand minimal contemporary aesthetics. Category: Product, Bathroom
Chalice Sleek Series: This ceramic wash basin interpreted by brand-new design language, offers three models that are versatile in design to fit a variety of hospitality and residential installations. Its inward convex vessel is not only aesthetically pleasing but also highly efficient since it occupies less space, accumulates water faster and saves more water in a fully filled state than traditional bowl-shaped wash basins. The hydrophobic coating on the wall of the basin is self-cleaning, keeping it looking good while improving the efficiency of the basin. Category: Product, Bathroom
More information about Kohler's winning products can be found in the "Winners & Ranking" section on www.ifdesign.com and on Kohler's iF company profile page.
About the iF DESIGN AWARD
Since 1954, the iF DESIGN AWARD has been recognized as an arbiter of quality for excellent design. The iF Design brand is renowned worldwide for outstanding design services, and the iF DESIGN AWARD is one of the most important design prizes in the world. It honors design achievements in all disciplines: product, packaging, communication and service design, architecture and interior architecture as well as professional concept, user experience (UX) and user interface (UI). All award-winning entries are featured on www.ifdesign.com and published in the iF Design App.
About Kohler Co.
Founded in 1873, Kohler Co. has more than 50 manufacturing locations worldwide, Kohler is a global leader in the design, innovation and manufacture of kitchen and bath products; luxury cabinetry, tile and lighting; engines, generators, and clean energy solutions; and owner/operator of two, five-star hospitality and golf resort destinations in Kohler, Wisconsin, and St. Andrews, Scotland. The company also develops solutions to address pressing issues, such as clean water and sanitation, for underserved communities around the world to enhance the quality of life for current and future generations.