Awardees hail from Metro Manila, Tagaytay, Clark, Cebu and Iloilo
- Megaworld Corporation defends its Best Developer title following a third consecutive win
- The Podium Complex by SM Keppel Land collects a total of 8 awards for a grand slam
- Robbie Antonio of Revolution Precrafted named Real Estate Personality of the Year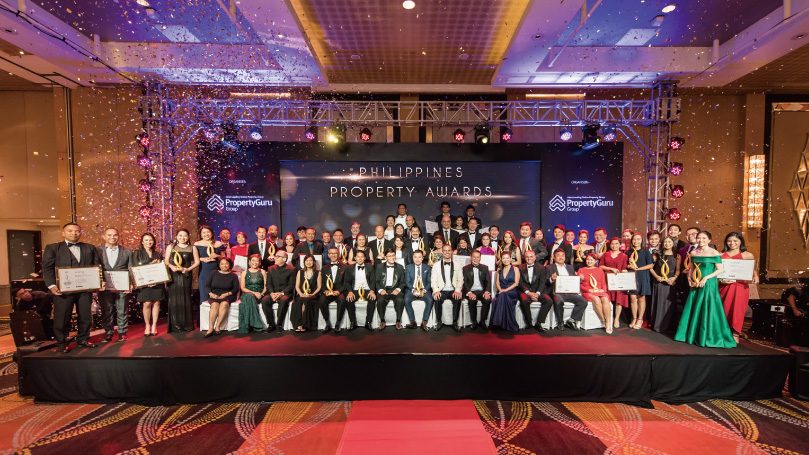 MANILA, Philippines - 11 May 2018: It was another successful year for the 2018 PropertyGuru Philippines Property Awards, presented by Kohler, after the exclusive unveiling of Winners and Highly Commended companies during its gala dinner celebration on Friday (11 May 2018) at the Fairmont Makati ballroom. Megaworld Corporation, two-time winner of the coveted Best Developer award, defended its title for a third year in a row, becoming the first company in the Philippines to achieve this feat in the prestigious Asia Property Awards series.
Overall the Dr. Andrew Tan-led conglomerate won six golden trophies and three commendations for Megaworld, and subsidiaries Suntrust Properties, Global-Estates Resorts Inc. (GERI) and Empire East, the last collecting the Special Recognition in Corporate Social Responsibility (CSR).

"Megaworld Corporation continues its winning streak as the country's best developer for a third consecutive year by launching and developing more quality and smart townships than its peers," said the independent judging panel.

"To date, the company boasts more than 700 residential, commercial and mixed-use projects, including 22 townships and integrated lifestyle communities throughout the archipelago, which help distribute the wealth not only in the capital, but especially in the provinces, where its pioneering 'iTownships' are expected to provide growth and sustainability well into the future."

Included in the company's haul were two new awards for Township Development and Township Architectural Design, which went to Iloilo Business Park and Uptown Bonifacio, respectively.

The Podium Complex by SM Keppel Land Inc. swept all the eight categories it was nominated for, including Best Retail Development, Best Office Development (Manila) and Best Mixed Use Development. In addition, the recently revamped The Podium complex took home the prizes for Best Green and Best Universal Design Development for making the entire development accessible to visitors regardless of age, size, ability or disability.
Regional developers also ended the evening with several awards. ArthaLand Corporation won the second highest award for Best Boutique Developer and the Special Recognition in Sustainable Development, whilst its Cebu Lavana Land Corporation subsidiary earned the Best Office Development (Cebu) crown.

Other notable provincial winners included three-time awardees AppleOne Mactan and Grand Land, whilst new entrants such as Grand Taipan and the tandem of Canyon Estates Incorporated/G2 Global Incorporated each won an award.

An array of special awards was presented as well, including the Special Recognition for Public Facility for Terminal 2 of the Mactan Cebu International Airport (MCIA) by GMR-Megawide Cebu Airport Corporation (GMCAC) consortium. The new special award expands the scope of the program to recognize the role of the government and public entities in the built environment.

On another note, Robbie Antonio, founder and CEO of Revolution Precrafted — the fastest company to reach first unicorn startup status in Southeast Asia — was honored as the 2018 Philippines Real Estate Personality of the Year for changing the concept of prefabricated, luxury homebuilding not only in the Philippines, but also in the biggest markets around the world. Antonio aims to "democratize design" by creating design-forward, limited edition precrafted homes, pavilions and other related structures, and making them more accessible to the masses through more competitive costs.

Hari V. Krishnan, CEO, PropertyGuru Group, said: "Congratulations to the Winners and Highly Commended companies in the Philippines. PropertyGuru applauds their contributions that help transform the fast-growing local property sector and increase the profile of underserved regional destinations. We are proud of their achievements and innovations, especially in green, sustainable and township development. We are happy to be able to do our bit in educating more Filipinos about the best real estate projects available that will meet or surpass their needs and expectations."

Terry Blackburn, founder and managing director of the PropertyGuru Asia Property Awards, said at the gala dinner: "The Philippines continues to be a very special market for us. It is a diverse, exciting, fast-growing real estate market that is welcoming to foreign investors, are the same today as they were in 2013 when we started the local awards program. Although driven by local giants, it is the open and welcoming business environment that allows new entrants, large and small, to thrive."

He added that business opportunities "must go hand in hand with increased responsibility to the environment, to the community and to your employees" as the Awards continue to celebrate companies with outstanding CSR and sustainable development initiatives.

The 2018 PropertyGuru Philippines Property Awards was supported by platinum sponsor Kohler; official media broadcaster ANC, the ABS-CBN News Channel; official newspaper The Philippine STAR; official supplier TITANIA Wine Cellar Inc.; media partners Hoppler and PropertyGuru Property Report; supporting association British Chamber of Commerce in the Philippines; and official supervisor BDO Roxas Cruz Tagle and Co. led by chairman and managing partner Michael Roxas.

The independent judging panel was led by chairman Dr. Jaime A. Cura, vice-chairman of The RGV Group of Companies. Cura was joined on the judging panel by: Abelardo M. Tolentino Jr. (President & CEO, Aidea Philippines); Carlo Cordaro (President & CEO, Atelier A); Christophe Vicic (Country Head, Jones Lang LaSalle Philippines); Cyndy Tan Jarabata (President, TAJARA Leisure & Hospitality Group Inc.); Jean Jacquelyn Nathania A. de Castro (CEO, Esca Incorporated); Luis Enrique T. Mangosing (CEO, Metro Development Managers Inc.); Monique Cornelio Pronove (CEO, Pronove Tai International Property Consultants; and Ramon Fernando D. Rufino (Co-President, The Net Group, and chairman, Urban Land Institute Philippines).

THE WINNERS AND HIGHLY COMMENDED LIST
6th PropertyGuru Philippines Property Awards 2018

DEVELOPER AWARDS

Best Developer
WINNER: Megaworld Corporation

Best Boutique Developer
WINNER: ArthaLand Corporation
HIGHLY COMMENDED: Grand Land Inc.

Special Recognition in CSR
WINNER: Empire East

Special Recognition in Sustainable Development
WINNER: ArthaLand Corporation

DEVELOPMENT AWARDS
Best Luxury Condo Development (Metro Manila)
WINNER: Trump Tower at Century City by Century Properties Group Inc.

HIGHLY COMMENDED: The Albany by Megaworld Corporation
HIGHLY COMMENDED: The Imperium at Capitol Commons by Ortigas & Company

Best High-End Condo Development (Metro Manila)
WINNER: Portico by Alveo Land

Best Mid-End Condo Development (Metro Manila)
WINNER: The Residences at Commonwealth by Century by Century Properties Group Inc.
HIGHLY COMMENDED: The Rochester by Empire East

Best Affordable Condo Development (Metro Manila
WINNER: Suntrust Shanata by Suntrust Properties, Inc. of Megaworld Corporation

Best Luxury Condo Development (Cebu)
WINNER: The Residences at the Sheraton Cebu Mactan Resort by AppleOne Mactan, Inc. (AMI)
HIGHLY COMMENDED: 38 Park Avenue by Cebu Landmasters

Best High-End Condo Development (Cebu)
WINNER: Grand Residences Cebu by Grand Land Inc.

Best Affordable Condo Development (Cebu)
WINNER: Amani Grand Mactan, Cebu by Grand Land Inc.

Best Housing Development (Cebu)
WINNER: Casa Mira South by Cebu Landmasters

Best Condo Development (Resort)
WINNER: Canyon de Boracay Premiere by Canyon Estates Incorporated / G2 Global Incorporated
HIGHLY COMMENDED: Canyon Woods Residences by Canyon Estates Incorporated / G2 Global Incorporated

Best Township Development
WINNER: Iloilo Business Park by Megaworld Corporation

Best Office Development (Manila)
WINNER: The Podium West Tower by SM Keppel Land Inc.
HIGHLY COMMENDED: Aseana Three by D.M. Wenceslao & Associates, Inc
HIGHLY COMMENDED: The Sites Entreprise Plaza by Alveo Land
HIGHLY COMMENDED: Unioil Tower by Exquadra, Inc.

Best Office Development (Cebu)
WINNER: Cebu Exchange by Cebu Lavana Land Corporation (a subsidiary of ArthaLand Corporation)
HIGHLY COMMENDED: Latitude Corporate Center by Cebu Landmasters

Best BPO Office Development
WINNER: Unioil Tower by Exquadra, Inc.
HIGHLY COMMENDED: Cebu Exchange by Cebu Lavana Land Corporation (a subsidiary of ArthaLand Corporation)

Best Retail Development
WINNER: The Podium by SM Keppel Land Inc.

Best Hotel Development
WINNER: Twin Lakes Hotel by Global-Estates Resorts Inc. by Megaworld Corporation
HIGHLY COMMENDED: Canyon de Boracay Premiere by Canyon Estates Incorporated / G2 Global Incorporated

Best Hotel Development (Cebu)
WINNER: Dusit Princess - Grand Tower Cebu by Grand Land Inc.
HIGHLY COMMENDED: Citadines Cebu City by Cebu Landmasters

Best Mixed-Use Development
WINNER: The Podium Complex by SM Keppel Land Inc.

DESIGN AWARDS
Best Luxury Condo Architectural Design
WINNER: The Imperium at Capitol Commons by Ortigas & Company
HIGHLY COMMENDED: The Residences at the Sheraton Cebu Mactan Resort by AppleOne Mactan, Inc. (AMI)
HIGHLY COMMENDED: The Sharp Clark Hills by Posco

Best Condo Architectural Design
WINNER: Verano Greenhills by Grand Taipan

Best Condo Interior Design
WINNER: The Residences at the Sheraton Cebu Mactan Resort by AppleOne Mactan, Inc. (AMI)
HIGHLY COMMENDED: Verano Greenhills by Grand Taipan

Best Township Architectural Design
WINNER: Uptown Bonifacio by Megaworld Corporation

Best Office Architectural Design
WINNER: The Podium West Tower by SM Keppel Land Inc.
HIGHLY COMMENDED: Cebu Exchange by Cebu Lavana Land Corporation (a subsidiary of ArthaLand Corporation)

Best Retail Architectural Design
WINNER: The Podium by SM Keppel Land Inc.
HIGHLY COMMENDED: Festive Walk Mall by Megaworld Corporation

Best Landscape Architectural Design
WINNER: The Podium Complex by SM Keppel Land Inc.

SPECIAL AWARDS
Best Universal Design Development
WINNER: The Podium Complex by SM Keppel Land Inc.

Best Green Development
WINNER: The Podium Complex by SM Keppel Land Inc.
HIGHLY COMMENDED: Cebu Exchange by Cebu Lavana Land Corporation (a subsidiary of ArthaLand Corporation)

Special Recognition for Public Facility
WINNER: Terminal 2 of the Mactan Cebu International Airport (MCIA) by GMR-Megawide Cebu Airport Corporation (GMCAC)

BEST OF THE PHILIPPINES AWARDS
Best Condo Development (Philippines)
WINNER: The Residences at the Sheraton Cebu Mactan Resort by AppleOne Mactan, Inc. (AMI)

PUBLISHER'S CHOICE
Philippines Real Estate Personality of the Year
WINNER: Robbie Antonio, Founder & CEO, Revolution Precrafted

For more information email awards@propertyguru.com or visit AsiaPropertyAwards.com/philippines-property-awards/